"Men acquire a particular quality by constantly acting a particular way… you become just by performing just actions, temperate by performing temperate actions, brave by performing brave actions."
― Aristotle
People are their actions, and a story is only worth telling if it is about people who act outside of their normal behavior. Entrepreneur and innovator Edwin ter Velde of Zero Waste Center is a person whose story is well worth documenting. His story is an ever-evolving effort to breach the boundary between comfort and discomfort: he is a man of focused action, an innovator who believes that social innovation reigns highest in the hierarchy of innovation.
"I have studied together with my old friend and cofounder of the Zero Waste Center Cees Hebing human behavior (to start with our own behaviour) and the way you can change it, and I understand that your behavior is not how you are, but how you behave. So, why is it that in companies or in people's everyday social behavior, we are not playing with our behavior? We think that's how we are. No, it's an instrument you can use," believes ter Velde.
As human beings, we can experiment with our actions to change for the better. However, most people would rather not admit that their routine behaviors are just that: routine. The opposite of innovation. Stories that no one wants to read or watch.
Ter Velde wants to rouse people from their stagnancy to experiment with actions that force them outside of their comfort zones and to transform themselves. The problem, of course, is that most people are not as comfortable as ter Velde is with questioning the routines that make up the foundation of their everyday lives.
We're sitting in a spacious nook in the Zero Waste Center production facility in Amsterdam-Noord, coffee in hand as 3D printers whir silently along one wall, and we chat facing the several meters high mock-up of the Solar Voyager. Ter Velde has found a way to inspire people to change their behaviors towards plastic waste, but elegantly framed in the concept of Zero Waste and in the story of the Solar Voyager Expedition.
"Talking about behavior is not a nice thing. Because people think, why are you talking about my behavior? It is uncomfortable. And I learned that if you put it in a concept that's not directly related to yourself, but at the end it is, then it's more comfortable to talk about it and to teach people," explains ter Velde. "And this is the reason I founded Zero Waste because throwing things away is a behavior, not respecting materials and thinking it doesn't bother you, is also behavior. If you're talking about the zero waste concept, then we think it is all related to waste, but after a couple steps you understand that the concept is all related to you as a person."
EXPERIMENT IN ACTION
The Solar Voyager is a solar powered vehicle partially made of recycled plastic. For one year now, ter Velde has been collaborating with renowned adventurer Wilco van Rooijen on the Solar Voyager Expedition. He is busy all day every day working on the project.
Edwin ter Velde is a sailor, but he is not a professional explorer. Nevertheless, come December 2017 he will embark with van Rooijen on an expedition to the geographical South Pole aboard the Solar Voyager. Their mission: to show the world that it is possible to journey to the center of Antarctica based on the concept of Zero Emission and Zero Waste.
The construction and expedition of the Solar Voyager is an experiment in behavior. Ter Velde not only wants to challenge himself to go outside his comfort zone, but he also wants to inspire people to change their behavior towards plastic waste. By creating a story and a community around the Solar Voyager Expedition and the zero waste concept, ter Velde hopes to encourage people to change their behavior by taking action to change their daily lives.
"We are showing that it's all a matter of doing. Just do it! Stop talking about the world and sustainability and things like that. Act. Act. Directly, and that's it," emphasizes ter Velde.
The completed Solar Voyager will testify to ter Velde's message of individual action and social innovation. If the Solar Voyager can make the journey to the South Pole, the most extreme climate on earth, then the expedition will set an example, challenging even the most average person to make radical changes in their daily life – to eschew comfort for the sake of preserving our environment and resources. To act, and by acting, to transform not only the world for the better, but themselves.
NOT WASTE, BUT PRECIOUS MATERIAL
The Solar Voyager will be made partially out of discarded water bottles, leftover packaging, disposable forks and spoons – what many of us regard as plastic waste. But not ter Velde, who doesn't see plastic as waste, but as precious material that demands our respect and innovation.
"Why is it waste? Has one molecule in the material changed because you call it waste? I don't believe that. It is still plastic, so it's still material. In nature, everything is important. So, materials are also important. So, respect it. Take it up from the street, and let's make the freshest thing you can imagine. Now for instance, the Solar Voyager, there's a high added value. So, we learn – children, but also organizations, everyone – that it's all in your mind. It's all in your mind. We think it is waste, no it isn't. It is material. And you can do such nice and precious things with those materials."
At this stage, ter Velde is busy calibrating the 3D printers that will print the plastic material into pieces that will make up the body of the Solar Voyager. He hovers over his laptop, monitoring the printers. It's easy to be swept away by the project there in front of the Solar Voyager mockup and listening to ter Velde. When he fits several plastic samples together and holds them up against the mock-up, you become infected with his fervor. And then there is still the most important aspect of the expedition to discuss: Antarctica itself.
INNOVATION SHOULD BE UNCOMFORTABLE
Journeying through Antarctica will not be luxurious – it is the driest continent on earth, with low temperatures and wind speeds of 350 km/h. But for ter Velde, the physical challenge of the journey is just as important as the technical challenges: if there is no discomfort, there is no change. Living sustainably and without waste will not be comfortable.
"If you want to change, you must change your standard behavior. And that's a difficult thing for people. We like to have a comfortable situation. But if it is comfortable, you are acting as you always have. So, if it is uncomfortable, you know that things are changing. That you are moving forward, or back. It's just a matter of testing and seeing what it will bring. It should be uncomfortable to innovate, to make a real innovation," believes ter Velde.
When asked why Antarctica should be the site of the Solar Voyager's route, ter Velde replies: "It is the most extreme. It is the most unknown continent." For if there was a continent that would host a journey meant to assimilate the goals of zero waste and radical behavioral change, it would be Antarctica.
EVERY PIECE HAS A STORY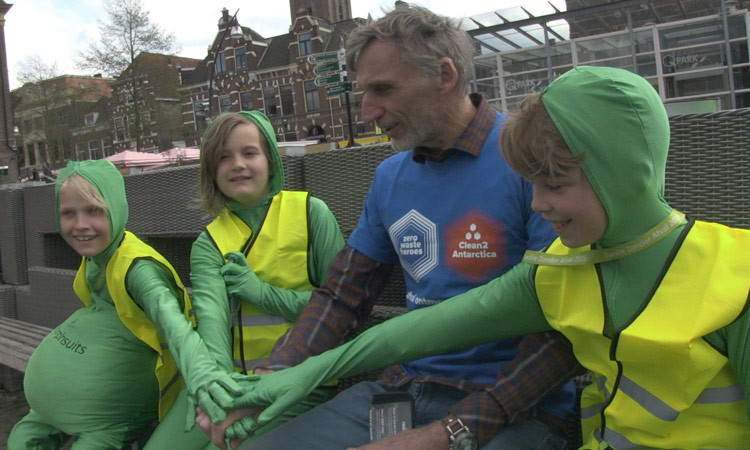 Ter Velde's strength is not only in his motivation or his ability to realize ideas, but in his storytelling. When he describes the communities of schoolchildren, or stadsjutters (or urban miners in English), and their efforts to gather discarded plastic material, he lights up. His excitement at having motivated a community of people to act, to effect change is more fervent than any other aspect of the Expedition.
He explains to me how every individual piece of the Solar Voyager will have a numbered certificate that will document the people who helped collect the plastic for that piece. "Every piece has its own story," says ter Velde. "So, this car is very precious because the energy in all those pieces is being shown to the world."
The story of the Solar Voyager, he tells me, isn't about him. "I do not want to have a notation in the Guinness book of records. It's not about me. It's about the fact that we can create things, and we should do it all together," says ter Velde.
Despite what he might say, ter Velde is one of the main actors in this real-life story. His drive and his energy to act drives the story of the Solar Voyager. He inspires each of us to act outside of our comfort zones– to do. For it is only by doing that the we can transform, innovate, and grow. DUTCH PICTURE INDUSTRY believes in stories like ter Velde's, helping him to share his story so we might accomplish our own goal to inspire people to create, to innovate, and to challenge themselves – to cross the boundary between possible and impossible.
Have a look yourself and be inspired by the Solar Voyager test drive.