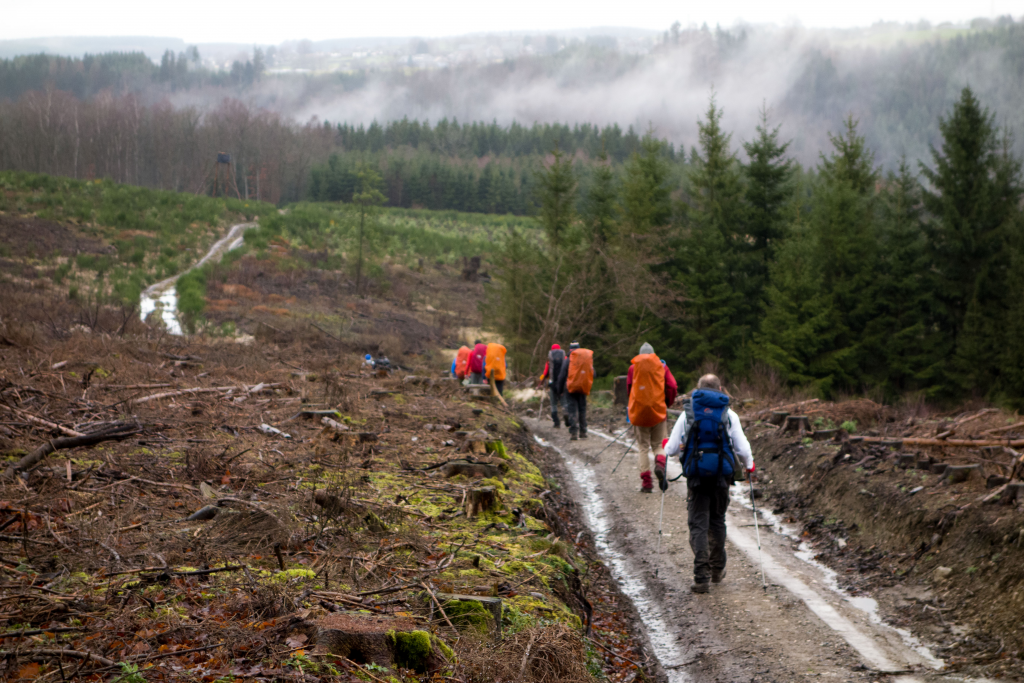 Two weeks ago I went with my friends from the Dutch Climbing Association for a bivouac weekend in the Ardennes in Belgium. Houfallize was the place to be and so we decided to meet up in a local pub from where we walked together to our first resting place in the forest. Weather was mild but wet, just like last year. It must have been an eight degrees Celsius and nights around freezing temperatures.
We had to walk for an hour or so before we could all chose our own space to spend the night. As I had only a bivy sac with me I was searching for the tree with the biggest crown to give me shelter during the night and protect me against rain. This meant I had to sleep a bit upwards as the ground wasn't flat at all.
Every hour I woke up and turned a bit to find the best spot and felt asleep again. In the morning you always have the ritual of starting the stove to boil water for breakfast and whilst it is doing so you will pack your stuff so after breakfast you can start your day. As we had to do a 35km trip on Saturday with a 15kg backpack this means with an average of 3km per hour that you have to move for at least 12hours without breaks. That is a pretty long day. Most of it is off road and in this season the rivers mostly are over the banks and paths so you have to find your way on a map with coordinates and a compass.
During the day you are full of excitement as there are so many obstacles to overcome and so many times you think; why I am doing this? You know that the night will be cold and wet with less sleep than is good for you after such a long day walk!
When I arrived back home Sunday evening everything was crossing my mind again and a few things came up. There is a mental and a physical element in bringing yourself out of your comfort zone. From the applicants there is always a percentage canceling their trip for many good reasons. Mostly it is not the real reason why people giving up on themselves. It is hard, it is not comfortable and warm at most of the time but just by setting that one step before the next is the start of a new adventure. Any adventure big or small, in cities or in nature.
The physical element is mostly direct linked to the mental state. When we are young we learn to cycle and then when it rains and is cold we still need to cycle because our parents say so. When you are getting older and deciding for yourself suddenly life becomes easier as you are making the calls. Many of us, trying to walk the easy less steep route through life. The route that is not giving you that extra when you succeed but lets you be average. Most of us don't see the parental strength anymore that we sometimes just need, to do and believe in the outcome and feeling a little of pain. We lost our inner strengths and trust that we can survive on our own with that extra glory moments that come along with it. No matter what choice you make in life, what walk you walk as long as you do it hand in hand with nature you will be surprised about the outcome!